Dr. Dre Digital Biography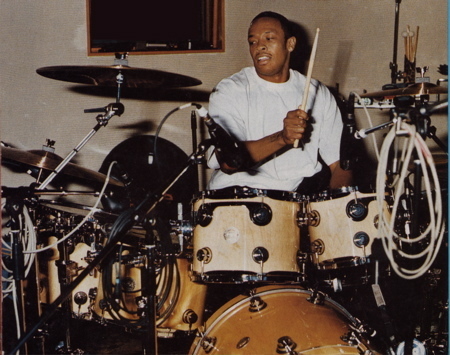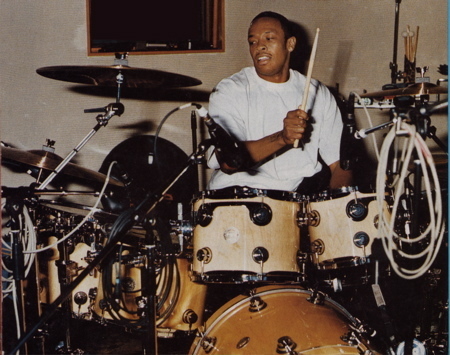 Gangsta rap pioneer Dr. Dre was born on February 18, 1965. A music fan from the start, Dr. Dre started working as a DJ in his teens. His first major success came with the rap group N.W.A. Dr. Dre co-founded Death Row Records in 1991. In 1992, his first solo album The Chronic became a huge hit. Dr. Dre started up Aftermath Entertainment in 1996 and signed Eminem and 50 Cent to his label.
Early Years
Born Andre Romelle Young, Dr. Dre came from a musical background. Both of his parents were singers. His mother, Verna, quit her group, the Four Aces, shortly before Dre was born. His middle name comes from one of his father Theodore's bands, the Romells.
After his parents split up, Dre lived with his mother who remarried several times. They moved around frequently, and at one point lived at the Wilmington Arms housing project in the Compton area. At Centennial High School, Dre showed a talent for drafting, but he paid little attention to his other course work. He transferred to Fremont High School and then went to the Chester Adult School. But his interests didn't lie in schoolwork—he wanted to make music. Dre received a music mixer for Christmas in 1984 and soon turned his family's home into his studio. For hours on end, he would work his magic, taking pieces of different songs and sounds to make his own sound.
Dr. Dre started hanging out L.A. nightclub Eve After Dark, where eventually got his chance to work the turntables. He joined the World Class Wreckin' Cru, which performed in nightclubs, and developed the rap persona of Dr. Dre, the Master of Mixology. His new moniker was inspired in part by basketball star Julius "Dr. J." Erving.
A Leading Rap Pioneer
Dr. Dre teamed up with fellow rappers Eazy-E, Ice Cube, Yella, MC Ren, the Arabian Prince and the D.O.C. to form N.W.A. (Niggaz With Attitude) in 1985. With his new group, he was able to produce a more hard-hitting sound. N.W.A.'s lyrics were equally harsh and explicit, reflecting life on the streets.
The group's second album Straight Outta Compton (1988) sold more than 2 million copies and marked the arrival of a new genre—gangsta rap. One track, "F*** tha Police," ignited a firestorm of controversy. The song, which explored tensions between black youth and the police, was thought to incite violence. The FBI even sent a warning letter to Ruthless Records and its parent company about the song.
Breaking out on his own and on a new record label, Dr. Dre hit the top of the hip-hop charts with The Chronic on Death Row Records in 1992. The biggest single from the album was "Nuthin but a 'G' Thang," which featured Snoop Dogg, then a little-known rapper. With this latest release, Dr. Dre helped introduce a new style called G-funk, which incorporated musical samples and melodies from funk with gangster rap. Dr. Dre had always admired the work of such acts as Parliament and Funkadelic.
Dr. Dre released his second solo album, 2001, in 1999. Selling millions of copies, the recording proved to be a hit on both the hip-hop and pop charts.
His fans, however, have been waiting years for his next release Detox. Some tracks from the forthcoming album has been leaked, but it has yet to make its official debut. Dr. Dre has claimed that this will be this final album.
Producer and Record Executive
Behind the scenes, Dr. Dre has been instrumental in launching the careers of numerous hip hop and rap artists. He acted as a track producer for many of the artists on Ruthless Records, a venture he started up with Eazy-E. Dr. Dre worked with Michel'le on her first album. With N.W.A., Dr. Dre helped produce much of the group's material.
With Marion "Suge" Knight, Dr. Dre co-founded the rap music empire known as Death Row Records in 1991. There he worked on the debut album of Snoop Dogg and Tupac Shakur's All Eyez on Me. In 1996, Dr. Dre left Death Row Records, escaping from the increasingly troublesome West Coast-East Coast rap feud. The conflict between West Coast and East Coast would eventually lead to the deaths of rappers Shakur and Biggie Smalls.
That same year, Dr. Dre established his own label, Aftermath Entertainment, in connection with Interscope Records. He signed numerous acts to Aftermath, but his two greatest successes came Eminem and 50 Cent. At first, Dr. Dre took flak for signing white rapper Eminem, but he soon proved the critics wrong. He produced several of Eminem's hit albums, including The Slim Shady LP (1999) and The Marshall Mathers LP (2000). With 50 Cent, Dr. Dre worked on his debut smash Get Rich or Die Tryin' (2003) among other projects.
Trouble with the Law
Over the years, Dr. Dre hasn't just rapped about violence or reckless behavior. He has lived some of his lyrics, experiencing numerous scrapes with the law. In 1991, Dr. Dre reportedly hit TV host Denise Barnes and tried to push her down a flight of stairs. The attack was triggered by a segment she had done about Ice Cube's departure from N.W.A. Dr. Dre faced assault charges and a civil suit for his actions, but both parties decided to settle out of court.
The following year, Dr. Dre again faced assault charges for an alleged attack on producer Damon Thomas. He was arrested for battery of a police officer a few months later. Dr. Dre seemed to take his dangerous behavior to the extreme in 1994 when he led police on a high-speed chase while intoxicated. Having violated his probation for the earlier battery offense, Dr. Dre was sentenced to several months in jail and ordered to pay a fine. He served his time in 1995.
Personal Life
Dr. Dre first became a father in high school. He didn't meet his first son, Curtis, until the boy was twenty years old. Another high school relationship yielded a daughter named La Tonya. Dr. Dre had a relationship with singer Michel'le who had worked with him in the World Class Wreckin' Cru, and they had a son together named Marcel. In the late 1980s, he fathered another son, Andre R. Young, Jr., with Jenita Porter. Andre Jr. died in 2008 of a drug overdose.
In 1996, Dr. Dre married Nicole Threatt.
They have two children together, a son named Truth and a daughter named Truly.
Dr. Dre is not the only performer in his family. His stepbrother, Warren G, had several hits in the 1990s. His son Curtis is an aspiring rapper who performs under the name "Hood Surgeon."
(source: biography.com)
See More of the 90's Artists Collection
See More of the West Coast Collection