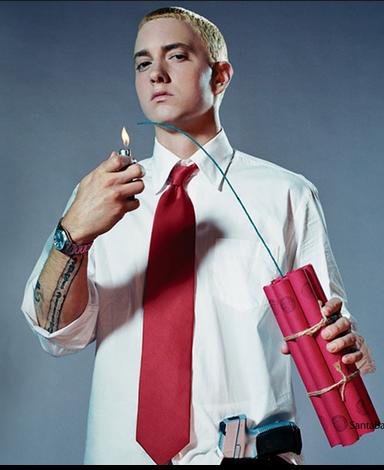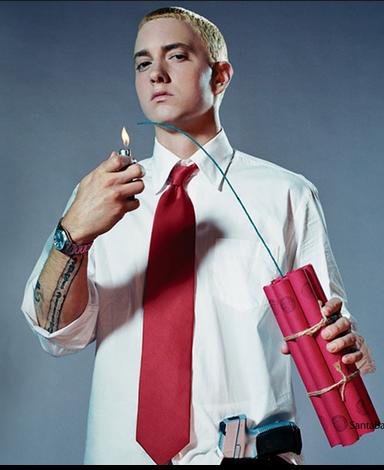 Famous rapper Eminem was born Marshall Bruce Mathers III on October 17, 1972 in Saint Joseph, Missouri, USA. He is the son of a fifteen-year-old mother at the time of his birth and a father who left six months later and never returned. Spending most of his childhood moving back and forth between Saint Joseph and suburban Detroit, Michigan, he finally settled on the Eastside of Detroit when he was 12.
Formerly studying at Lincoln High School in Warren from 1986 to 1989, Marshall often switched schools every two or three months. It made him difficult to make friends and stay out of trouble. Failing at the 9th grade three times until finally dropping out, he said he wasn't stupid. He said he was not interested in school because all he wanted to do was rap.
Marshall began rapping at the early age of 4 and started pursuing career seriously at the age of 14. That was the time when he began performing rap in the basement of his high school friend's home. At 17, he eventually made a name for himself, Eminem, which was taken from his initials M(arshall) M(athers).
The local Hip-Hop community, used to black rappers, at 1st refused the white Eminem. But in the end, he found the easiest way to win in the underground hip-hop society was by becoming a battle rapper - performing in several clubs and forcing himself on radio shows.
He wasn't immediately accepted by public, but as time went by he proved himself as a qualified rapper. He began getting some offers to join several other rappers to start a group, Em joined the New Jacks and then moved to Soul Intent and produced his first recorded single with them in 1995. It was a rapper named Proof who then asked Eminem to start a new group because he enjoyed working with him. With their 4 other friends, Proof and Eminem were both in one group named D12, each of whom ended up focusing more on their solo careers rather than their collaboration, leading to a career break.
It was the birth of Em's first child, Hailie Jade Scott on December 25, 1995 with longtime girlfriend Kim Scott, that encouraged him to work harder for the money his family needed. It was difficult for him who had nothing except the "life sucks" experiences he used as the topic of his rap lyrics. One year later, in 1996, Eminem recorded his first album "Infinite", only to receive few favorable reviews.
Learning from his previous failure, he soon introduced Slim Shady, an alter ego that wasn't afraid to say whatever he felt. Working on the song with all his heart and strength, Em poured his heart out and reflected his feelings toward his mother who was accused of physically and mentally abusing his younger brother.
In 1997, Kimberly Ann Scott left him and forbade him to see their child. The frustration sent Eminem to a frequent rate of drug abuse and alcohol that surely affected his composition. Once committing suicide, he finally realized the best and only way to escape from his unhappy life was his musical ambition. Such depression led him to release the brutal "The Slim Shady EP", which he actually filled with some of the composition he had written long time before. Due to his distinctly-exaggerated, nasal-voiced rapping style and his skin color, many people named him music's next "great white hope."
He finally signed a contract with Interscope and was taken under Dr. Dre's wing, allowing him to record a full-length CD. Both then started to record "My Name Is" before Dre finally agreeing to produce Em's first album, with "Just Don't Give A F*ck" single as the album preview. A reconciliation with Kimberly Ann Scott led them to a marriage held in the fall of 1998.
In early 1999, he released "The Slim Shady LP" that spawned hits "My Name Is" and "Guilty Conscience". Over the next years the album went triple platinum, leaving the pros and cons over the album's lyrics far behind. His success continued with "The Marshall Mathers LP" released in the summer of 2000. It sold 1.76 million copies in its first week of release in the U.S., a record for a solo artist, successfully won 3 Grammys and became the first rap album ever to be nominated Abum of the Year.
As the fame and popularity came, many more controversies arose due to some riots Eminem had caused, including a scuffle with the Insane Clown Posse's employees in a car stereo shop; a battle with pop singer Christina Aguilera; a lawsuit from his mother; and a brawl with Detroit club goers.
Those accusations inspired him to produce two other songs, entitled "Kill You" and "Kim." In the latter song, he rapped about violently murdering his own wife that in reality drew her to a suicide attempt before they finally got divorced. Kim was at first granted physical custody of their daughter, financial support, a personal driver, and reinstatement of her credit cards, but Eminem later got the joint custody of daughter, Hailie Jade.
In 2001, he met his Detroit old friends and re-formed D-12 who all together in that summer released an album and hit the road. This was followed by an acting debut in "8 Mile", a film loosely based on his life directed by Curtis Hanson. He won the 2003 Academy Award for the soundtrack titled "Lose Yourself". Then came "The Eminem Show" album, which despite its popular second single "Cleanin' My Closet" that revolved around his dysfunctional childhood and his hatred towards his mother, provoked many critics. Regardless, it was a huge success commercially.
Another well-received album "Encore", which reunited him with his old buddies in D12, soon followed in 2004. It was nominated for three Grammys and made digital history back then for becoming the first album to sell 10,000 digital copies in one week. Apparently to return the favor, he later hit recording booth with pals for a "D12 World" album in 2005.
While he was at the peak of his career, Em was rumored going to retire from music industry. But he denied it, "When I say I'm taking a break, I'm taking a break from my music to go in the studio and produce my other artists. Despite his self-defense, the rapper apparently got caught in worse situation as he once was sent under treatment to overcome his dependency on sleep medication. This obviously provoked public worldwide to have a worsening perception on both his personal and musical career.
Indeed, Em kept working on his music career. A greatest hits compilation "Curtain Call: The Hits" was released on December 6, 2005. Just like its predecessors, the new set scored great success, bowing atop of the Billboard album charts. Things also turned better in his love life as he revealed that he's back together with ex-wife, Kimberly. "We have reconciled and are probably going to remarry," he said back then. They finally remarried, but it only lasted less than three months. Kim cited Em's dependency to the sleep-medication as the reason behind their latest breakup.
But Em denied it as saying, "Her allegations regarding my status post-rehab are both untrue and unfortunate.... she was aware that I was filing for divorce. We both tried to give our marriage another chance and quickly realized that a wedding doesn't fix the underlying problems."
After "Encore", he took a break from recording. He said he was "in limbo" and "debating" about when and if he would release another album. He said, "I'm always working I'm always in the studio. It feels good right now, the energy of the label. For a while, I didn't want to go back to the studio ... I went through some personal things. I'm coming out of those personal things [and] it feels good."
In May 2009, his fans rejoiced as a comeback album "Relapse" was rolled out that year. Featuring hits like "Crack a Bottle", "We Made You" and "Beautiful", it topped Hot 200, marking the umpteenth time he sat at the top spot of the U.S. album chart. As one of the most-awaited album of the year, the record became the best-selling rap CD by the end of December.
New music kept coming from the rapper as he dropped another album "Recovery" in the following year. Not only did it produce smash hit singles like "Not Afraid" and "Love the Way You Lie" but it also became his ticket to collect more Grammy Awards. He even scored his best-selling single to date with 10.25 million sold worldwide for the Rihanna-assisted track.
Despite being one of the best-selling rapper in the world, Em never forgot his roots. Besides his reunion with D12, he also got back together with another of his Bad Meets Evil homie, Royce 5'9'' for "Hell: The Sequel" album. The CD was released a year after his "Recovery".
Fans' demand for new music after two years of absence was answered by Eminem in 2013. He announced "The Marshall Mathers LP 2" with "Berzerk" as a lead single. Although it was only previewed with one single, the album was already lauded by critics. It was named one of the most anticipated albums of 2013 by multiple music magazines.
(source: aceshowbiz.com)
See More of the 90's Artists Collection
See More of the Midwest Artists Collection