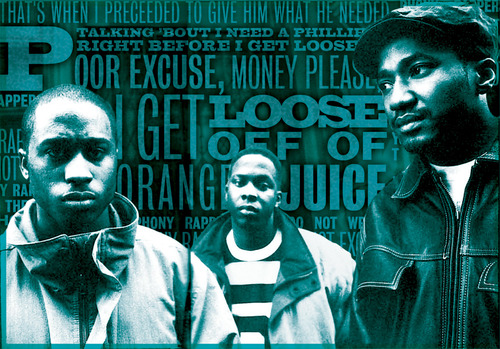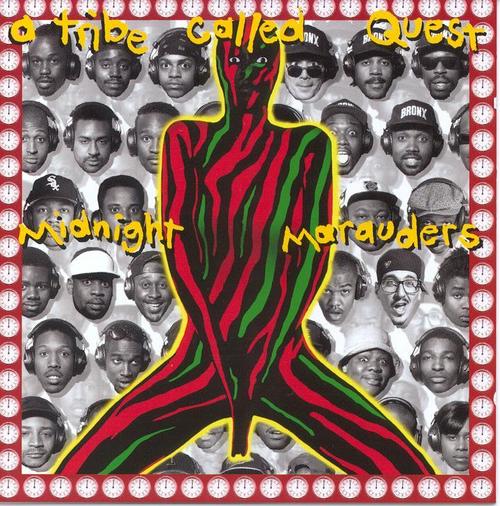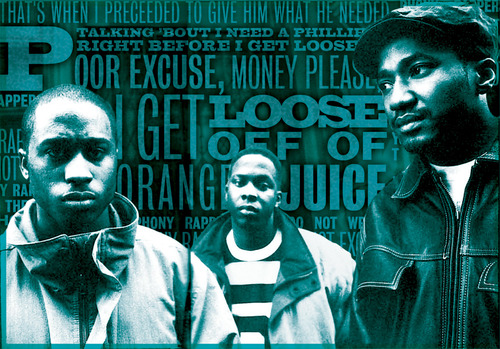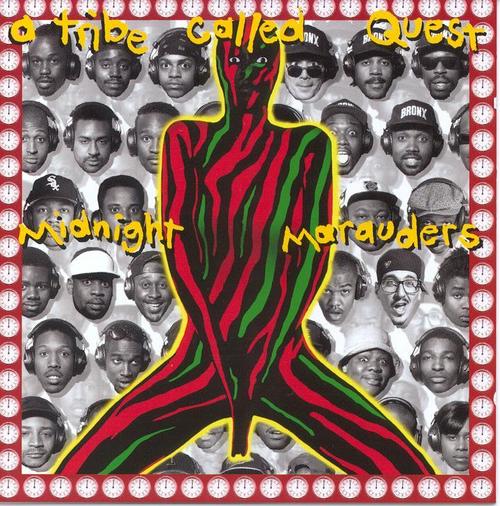 A Tribe Called Quest is one of Hip Hops most legendary, beloved and revered groups of all time and for good reason. Easily recognized for their unique approach to rap music by employing jazz infused soundscapes to Afro centric rhymes, sans the jaded and often nihilistic aggressive posturing associated with hip-hop, A Tribe Called Quest was largely responsible for the popularity of a new genre that dominated the East Coast sound of the early 1990s.
Queens, New York natives Q-Tip , Phife Dawg , and Ali Shaheed Muhammad of Brooklyn, formed ATCQ in 1985. Jarobi, the honorary member of ATCQ, though not always heard, was a fixture of the group in heart and in friendship. QUEST, the original name of the group, was later given the prefix A Tribe Called by their high school buddies, The Jungle Brothers, while recording Black Is Black for their album Straight Out The Jungle. ATCQ, along with the Jungle Brothers and De La Soul, formed a unit called The Native Tongues. With a building buzz around The Native Tongues and Tribes energetic live performances, ATCQ landed a major recording contract with Jive Records in 1989.
Sonically, ATCQ was a decisive and welcomed tangent of jazz, bass-heavy rhythmic vibes and eclectic sampling when compared to the mundane recycling of soul loops, breaks and vocals of their contemporaries. Lyrically, emcees Q-Tip and Phife Dawg addressed social issues relevant to young blacks such as use of the n word and its relevance, date rape and other interpersonal relationships, industry politics and consumerism with infectious energy and fun and having a good time while still promoting positivity.
ATCQ composed a number of successful singles and albums with their creative approach to rap music. In 1990, the group released Peoples Instinctive Travels and the Paths of Rhythm, scoring several memorable songs including Bonita Applebum, Can I Kick It and I Left my Wallet in El Segundo. It was their sophomore effort, The Low End Theory, considered one of the greatest follow-ups in hip-hop history, that would solidify them as legends. Released in late 1991, the freedom expressed in the creation and feel of this record – along with its successor Midnight Marauders – influenced many future artists and producers such as Common, The Roots, Jill Scott, Kanye West and The Neptunes. These artists are a part of ATCQs legacy and are evidence of ATCQs impact for years to come. Classics like Award Tour, Electric Relaxation, Check The Rhyme and Scenario defined ATCQs sound during this period.
In 1996, ATCQs fourth album, Beats, Rhymes & Life, was released. The Ummah – a production team consisting of Q-Tip , Ali Shaheed and newcomer and stellar talent Jay Dee (now Jay Dilla of Slum Village) – was established the same year. The team worked together to share their aural aesthetic with other artists like Janet Jackson, DAngelo, and Faith Evans.
ATCQ continued to perfect and advance their sound, displaying their unique take on hip-hop. It was with the completion of their fifth studio album, The Love Movement, that ATCQ chose to exit the proverbial stage.
In recent years, the anticipation for another ATCQ album has been building. The Abstract Poetic, Five Foot Assasin , and Mr. Muhammad have yet to grace the studio for another record, but have hit the road again. Today, the power of their music is still evident in their dynamic stage shows and in the reception of their adoring fans.
A Tribe Called Quests anomalous posture has changed the face and sound of hip-hop and paved the way for future groups, artists, producers and even fans to be unapologetic about their creative expression. With or without future recordings, ATCQs legacy lives on in the groups creative innovation that is recognized as a profound contribution to musical history.
Reunion
The group first reunited on November 13, 2004, headlining the Rock the Bells concert held in the Angels Stadium parking lot in Anaheim, California. This was the night that Ol' Dirty Bastard died, and as such the group opened up with a 10-minute tribute set to the Wu-Tang Clan and continued a 2-hour highly energetic show.
In 2006, the group reunited and performed several sold-out concerts in the U.S., Canada and Mexico. A Tribe Called Quest was a co-headliner at the 2006 Bumbershoot festival in Seattle, but have not announced any plans to release a new album. The group is also appearing in 2K Sports' Bounce Tour promoting the NBA 2K7 game and a remix of their song, "Lyrics to Go", which is included in the game. According to Phife, ATCQ plans to release an album since they owe Jive Records one more in their six album contract. The date of its release is still unconfirmed, and Phife has urged fans to hold on as the group does not wish to release an LP which might damage their reputation. Speaking about the possibility of a new album showing up soon, Phife said:
"Man, we was only 18-19 when we first got started. [When] We broke up we were still like 28. Now we are 35-36. It'd be real different being in the studio. It would be real interesting to see where Q-Tip is. It would all be on a much higher level. But we are all into such different stuff from way back then. We'd need at least a solid month to work on something. Trying to get all of us together for that much time… I don't see that happening."
ATCQ was the headlining act in 2008 at the Rock the Bells series of concerts, and were also co-headliners on the 2010 Rock the Bells festival series, alongside Snoop Dogg and Wu-Tang Clan. More recently, the group has once again reformed to play a handful of select festivals throughout the summer of 2013, including Yahoo! Wireless in London, Splash! in Germany, OpenAir Frauenfeld in Switzerland, and in Los Angeles at H2O Music Festival.
Film
The group was the subject of the critically acclaimed 2011 documentary film entitled Beats, Rhymes & Life: The Travels of a Tribe Called Quest, directed by Michael Rapaport.
(sources: atribecalledquest.com, wikipedia.org)