The Fugees Digital Biography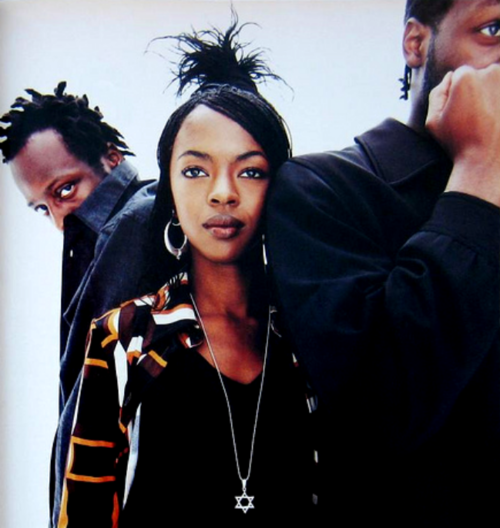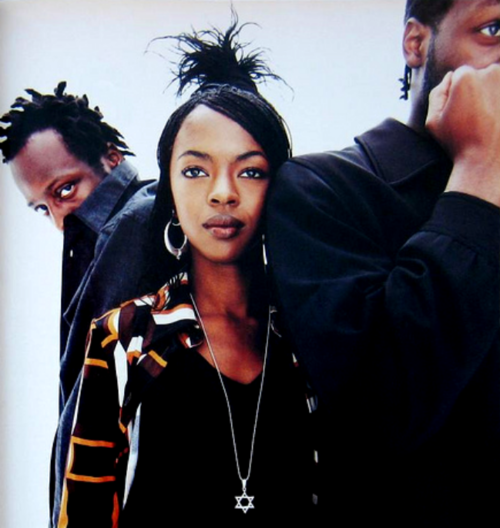 WHEN the Fugees released their second album, The Score, in early 1996, the trio's organic style of hip-hop injected a shot of much-needed soul into a genre saturated with testosterone-induced posturing and gangsta attitudes. For Lauryn Hill, Wyclef Jean, and Prakazrel "Pras" Michel, hip-hop was as much about Bob Marley and Nina Simone as it was the Notorious B.I.G. and Snoop Doggy Dogg. Driven primarily by Hill's sun-drenched version of the old Roberta Flack hit "Killing Me Softly," the Fugees went on to sell more than eight million copies of their sophomore effort worldwide, becoming one of the biggest legitimate (unlike Hammer and Vanilla Ice) hip-hop artists of all time.
The Caribbean background of Jean and his cousin Michel (both were born in Haiti and moved to the United States as children), and the time all three group members spent in the environment of their parents' churches, contributed significantly to the development of the Fugees' homegrown blend of beats, raps, reggae, and soul. Jean and Michel grew up in Brooklyn (though they later moved to Newark, N.J., as teens), living in neighborhoods that had a large contingent of Caribbean émigrés. Both their fathers were pastors in the local church, and as such, the music of the church imbued itself in their consciousness. When he was a boy, Jean's burgeoning musical curiosity led him to pick up and learn to play as many instruments as he could find. Hill, on the other hand, had been singing in the church choir and in gospel groups with members of her family since she was a little girl.
As a 13-year-old freshman, Hill first met Michel in high school ("He was looking for fresh meat," she once joked in an interview). He and Jean had been in a band for a while, and both were intrigued with the possibility of adding a female member to the group, especially one with a sugar-coated voice like hers. Thus, the Fugees, or Tranzlator Crew as they originally called themselves, was born. After almost two years of informal playing, the Fugees hooked up with a local production company that included members of Kool & the Gang. The group signed a record deal, changed their name (short for Refugees, an allusion to their Caribbean roots) and, a year later, finished recording their debut album, Blunted on Reality.
Because of internal problems at their label, the album was not released until two years later, in 1993. When it was finally issued, Blunted on Reality made little impact on the music landscape. It was largely a collection of overproduced songs that sounded tremendously dated and, at times, downright annoying. The Fugees' concert appearances didn't add much to their reputation either. Their shows featured live instruments, but, embarrassingly, the group cavorted around the stage in color-coordinated outfits, engaging in somewhat goofy routines. Today, the group readily admits that in their youth, they were just happy to have a record deal and were doing whatever the producers told them to do. Indeed, Hill was only 16 when the album was recorded, and Jean, the eldest member, was a scant 21.
One performance on Blunted, however, was a harbinger of things to come. Hidden about 10 songs deep was a gem called "Some Seek Stardom," a syrupy soliloquy from Lauryn Hill that served as the album's sole moment of redemption. In that song, Hill rapped with the grace of Muhammed Ali and the spirit of Billie Holiday. At that time, the Fugees were still little more than a no-name group, but the release of two remix singles helped to evaporate their anonymity.
Employing live instrumentation, and with the help of producer Salaam Remi, the Fugees ostensibly crafted a whole new song based on the Blunted track "Nappy Heads," a smooth and silky reworked version that highlighted the group's love of buttery bass lines and soul-soaked horns. The tune also put the half-crooning, half-rhyming delivery of Hill in the spotlight, delivering a fresh vibrancy that made the Fugees sound positively infectious. That remix - and its similarly styled follow-up, "Vocab" - catapulted the band onto radio charts, dance floors, and, of all places, MTV. The Fugees were no longer a band ignored, but one on the brink of stardom.
The attention the group received, though, was perhaps bittersweet. With her dark chocolate skin, innocent starlet eyes, and juicy plum lips, Hill became the most easily identifiable Fugee. Fans were enamored with her poetry, her skill, and her beauty. Couple that with her burgeoning notoriety as an actress (she began with bit parts in soap operas, and was later featured in Sister Act II with Whoopi Goldberg), and some people began to consider that Hill, for all intents and purposes, was the Fugees. There was constant urging by fans, the media, and even close friends to ditch Jean and Michel and go solo.
Hill would have none of that, and in early 1996, the Fugees returned with The Score, an album so wholly different from their first that many people think of it as their debut. According to the band, the album is conceptual, running from beginning to end as if it were the soundtrack to a fictional, unmade film. Weaving darkly melodic tunes like "Ready or Not," with the spiritual politics of Bob Marley's "No Woman, No Cry," and the specter of "Killing Me Softly," it seemed the Fugees had finally found their musical voice. They questioned the Mafioso mentalities and violent imagery in hip-hop music, all the while providing a booming spring and summertime masterpiece. Hill was no longer alone in her achievements, as Michel's production talents and Jean's musicianship and wordsmithing were just as enchanting as her ever-charismatic lyricism.
The Fugees' sound had become ubiquitous, reaching fans of all types of music, not just hip-hop. Hill's guest vocal on the Nas hit single "If I Ruled the World," and a headlining slot on the first annual Smokin' Grooves tour catapulted the group to appeal of gargantuan proportions. After the tour, Lauryn revealed that she was pregnant, and Jean revealed his plans for a Refugee All-Stars project. In February of 1997, the Fugees cemented their status by winning two Grammy Awards, one for Best Rap Album and one for Best R&B Performance by a Duo or Group.
Proving that his outspoken activism was more than mere words, Jean insisted the Fugees perform in Haiti as the first in a series of projects aimed at helping unite Haitian people around the world. The concert, which took place in April 1997 in Port-au-Prince, drew a record crowd of 75 thousand people. The money raised was to go to aid Haitian refugees, develop and fund projects by Haitian artists, and assist the feeding of poverty-stricken children in the country. A post-concert scandal revealed that the money raised had been "lost." An investigation by the Haitian government failed to determine whether the funds simply covered the cost of putting on the massive show, or if the pockets of several government ministers were thickly lined. The Fugees translated an intriguing blend of jazz-rap, R&B, and reggae into huge success during the mid-'90s, when the trio's sophomore album The Score hit number one on the pop charts and sold over five million copies. The trio formed in the late '80s in the New Jersey area, where Lauryn Hill and Prakazrel Michel ("Pras") attended a local high school and began working together. Michel's cousin Wyclef Jean ("Clef") joined the group (then called the Tranzlator Crew), and the trio signed to Ruffhouse/Columbia in 1993. After renaming themselves the Fugees (a term of derision, short for refugees, which was usually used to describe Haitian immigrants). Though the group's debut album, Blunted on Reality, was quite solid, it reflected a prevailing gangsta stance that may have been forced by the record label. No matter how pigeonholed the Fugees may have sounded on their debut, the group had obviously asserted their control by the time of their second album, The Score. With just as much intelligence as their jazz-rap forebears, the trio also worked with surprisingly straight-ahead R&B on the soulful "Killing Me Softly With His Song," sung by Lauryn Hill. Elsewhere, Clef and Pras sampled doo wop and covered Bob Marley's "No Woman No Cry," giving the record familiarity for the commercial mainstream, but keeping it real with insightful commentary on their urban surroundings. The Score became one of the surprise hits of 1996, reaching number one on the pop charts and making the Fugees one of the most visible rap groups around the world. During 1997, the crew played on the Smokin' Grooves tour, and took time out while Hill gave birth to a child and Clef issued a solo album, The Carnival Featuring the Refugee Allstars. In 1998 Hill released her smash record The Miseducation of Lauryn Hill and in 2000 Clef released his second solo disc, The Ecleftic: 2 Sides II a Book. In turn, their solo success cast further doubt on another Fugees release. ~ John Bush, Rovi
(source: artistdirect.com)
See More of the 90's Artists Collection