Mos Def Digital Biography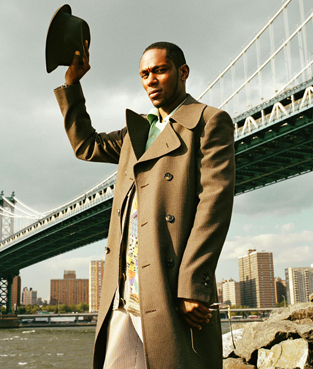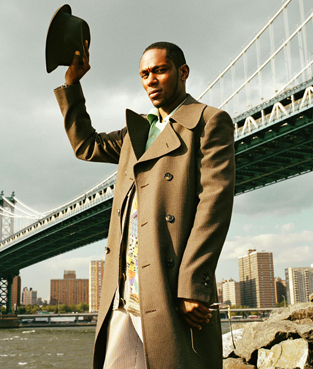 Born Dante Terrell Smith, December 11, 1973, in Brooklyn, NY; son of Abdul (Abi) Rahman and Sheron (Umi) Smith.
Mos Def was born Dante Terrell Smith on December 11, 1973, in the Brooklyn borough of New York City. The oldest of 12 kids (some sources say nine), Mos Def was raised by his mother, Sheron, whom he calls Umi, in Brooklyn's rough-and-tumble Roosevelt housing project. His father, Abdul Rahman, whom he calls Abi, lived in neighboring New Jersey. Growing up, Mos Def made the most of his surroundings. Speaking to Richard Cromelin of the Los Angeles Times, Mos Def characterized his neighborhood as "a bright valley with dark prospects." He said he believed his neighbors were good people with bad habits. Early on, Mos Def decided he would work hard and make a better life for himself. At one time, Mos Def thought about becoming a doctor or a minister. Filled with initiative, he filled his spare time reading. "I wanted to be informed. I had a curious mind, so I wanted to do things that activated that challenge," he told Cromelin. "I wanted to get involved, I didn't want to just sit around and accept my surroundings."
At the age of six, he already started rapping and acting. He studied at Philippa Schuyler Middle School and later took up Musical Theater at Talent Unlimited High School of the Performing Arts. He then moved on to New York University afterwards. In 1994, his music career began by forming the group Urban Thermo Dynamics with his younger siblings. The group had two singles until he took on a solo career.
Mos Def made his stage debut in fifth grade in a production of Marlo Thomas's Free to Be You and Me. He loved the experience and when he reached high school, he enrolled at a New York City performing arts magnet school. When Mos Def was a freshman, he landed his first real acting gig, starring in an ABC movie of the week called God Bless the Child in the late 1980s. At the age of 16 he earned the part of Nell Carter's son on the sitcom You Take the Kids, which ran from 1990 to 1991. Fresh out of high school Mos Def earned a role on the short-lived 1994 TV show The Cosby Mysteries. He later made appearances on NYPD Blue in 1997 and Spin City in 1998. Mos Def landed a few other roles as well and during this time used the name Dante Beze. After high school, his mom worked as his manager.
Though Mos Def was earning sporadic film and television roles, he began turning his attention toward music, which had also been a childhood passion. Mos Def began writing rhymes in grade school, at first as a desperate act of survival. Speaking to Entertainment Weekly 's Daniel Fierman, Mos Def acknowledged that he was a small and nerdy child who could barely hold his own on the basketball court. "I was a 99-punch kid," he joked. "If you hit on me 100 times, I'd be like, 'Okay, now I'm gonna break you.' So I had to do somethin' to be able to just survive around my neighbors, you know?" Entertaining would-be bullies with his witty rhymes offered some form of protection. When he was ten years old, Mos Def was enthralled by rap group Run-DMC's song "It's Like That." From that moment on, hip-hop played a significant role in Mos Def's life.
In his early 20s, he changed his name to Mos Def, which is short for his favorite affirmation—"most definitely"—which was his typical response when friends asked him if he wanted to hang out. Around this time Mos Def launched his first group, called Urban Thermal Dynamics, along with his siblings. They signed with a local label but never produced a record. Mos Def, however, began to carve out a name for himself among the Brooklyn hip-hop scene. In 1995, he met De La Soul's lyrical genius Maseo and was invited to join the Native Tongues Posse.
The turning point under the affiliation, known for their positive-minded, good-naturedly Afrocentric lyrics and jazzy beats, ultimately took shape when the teen wonderfully landed chances to have cameo appearances on Soul's "Big Brother Beat" and Bush Babee's "Love Song" in 1996. Showcasing his intelligent rhyme skills as well as his charm and charisma, it was not really surprising to afterwards see him strike a deal with Royalty Records, through which he was able to release his own first single "Universal Magnetic."
At the time, Mos Def was working at a Brooklyn bookstore called N'kiru Books, alongside another aspiring rapper named Talib Kweli. They spent their time browsing the literature and later became co-owners of the bookstore. A massive underground hit, the composition joyously led Def to a more high-profile collaboration with Talib Kweli under the moniker of Black Star, whose self-titled album became one of the most discussed works in 1998 following its launch on August 26 that year via Rawkus Records.
The pair also worked together creating rhymes and in 1998 released a political yet playful album called Mos Def And Talib Kweli Are Black Star ; the space entity of the title is a cosmic phenomenon. It became a classic of the hip-hop underground. Just a year later, Mos Def released a solo album, Black on Both Sides, which had a jazzy, R&B flavor. The releases heightened Mos Def's notoriety and established him as a socially conscious, introspective, and insightful rap artist. In Black on Both Sides, which was certified gold, Mos Def makes references to the insults and injuries black men often feel at the hands of police officers. He also took time to question the amount of money allocated in the U.S. defense budget. The albums established Mos Def as a master of the art of conscious rap.
The reaction surprised Mos Def himself. "I was in L.A. right after the album came out and I'm on stage performing and I'm lookin' at people reciting words of the songs off the album," he told Entertainment Weekly 's Fierman. "And I'm like, 'Am I seein' this right? I know this record has not been out that long.'"
The albums created quite a buzz in the hip-hop world, but Mos Def left them behind to concentrate on acting once again. He earned roles in 2000's Bamboozled, which was directed by Spike Lee, 2001's Monster's Ball, starring Halle Berry, 2002's Brown Sugar, and 2004's The Woodsman. For his role in The Woodsman, Mos Def earned a Black Reel Award for best actor in an independent film.
All of the roles, though small, worked together to broaden and mature his acting skills. They also afforded him the opportunity to brush shoulders with industry heavyweights. In 2004 Mos Def established himself as a multidimensional actor in the HBO flick Something The Lord Made, playing pioneer heart surgeon Dr. Vivien Thomas. Mos Def earned critical acclaim for the role, along with Golden Globe and Emmy nominations.
In 2002 Mos Def became a theater star after landing on Broadway in a production of Topdog/Underdog. Starring in the production allowed him to work with renowned director George C. Wolfe in a play that won the author, Suzan-Lori Parks, a Pulitzer Prize. Mos Def starred opposite Jeffrey Wright in the two-man show with the duo playing con-artist brothers. Even Mos Def realized this was a turning point in his career. "Actors would give their eye-teeth to work with people of this level," Mos Def acknowledged to the New York Times 's Robin Finn. "This is a major, major, major turning point, not just for me, but for the culture [T]his is one of those rare instances where something of a high artistic order is like at ground level, at street level, where Jay-Z and Puffy have come to the theater, where kids are coming to Broadway to watch this play." He was proud to inspire fellow African Americans to attend the play.
Mos Def appears alongside Kanye West on the track "Two Words" from The College Dropout album, the track "Drunk And Hot Girls" and the bonus track "Good Night" off West's third major album, Graduation. In 2002, he released the 12" single Fine, which was featured in the Brown Sugar Motion Picture Soundtrack.
The play also showcased some of Mos Def's unseen talents. In one act, he had to do a striptease to a James Brown piece while removing several stolen suits lifted as part of his day's work. The play itself was filled with gritty lyricism, and Mos Def, with his background in smooth rap-delivery, nailed the lines. The playwright herself could not have been more pleased. "What's really cool about watching Mos onstage is that there's such a freedom to him," Parks told Rolling Stone 's Mark Binelli. "I'd guess it comes from a real inner strength—not a conceited-pride but a strong heart-center, like you say in yoga. A warrior spirit." For Mos Def, rapping and acting are almost the same thing. "I enjoy telling a story with all that I have—my mind, my body," he told Ebonny Fowler of Essence. For him, it is about connecting with the crowd, whether he is singing or acting.
During his spare time between performances Mos Def worked on a recording with his band Black Jack Johnson, named after the first African-American boxing champion, Jack Johnson. The group is composed of artists from Living Colour, Bad Brains, and Parliament-Funkadelic. Mos Def wants the group to make an album that is hip-hop rock.
Def was accused of anti-Semitism when in 2004, Def rapped "some tall Israeli is running this rap shit." Which was a reference to the Israeli music executive Lyor Cohen, that Def singled out, together with white men in general, corporate greed, and drugs, as one of the main reasons for the decline of hip-hop.
In October of 2004 Mos Def released his long-awaited second solo album, The New Danger. It debuted on the Billboard album chart at number five. One Vibe magazine reviewer called the album "explosive, creative, political, experimental, [and] soulful." The reviewer went on to say, "Lyrically, the New Danger has cemented Mos in the upper eschelon of wordsmiths and album makers in this art that we call rap." Overall, reviews were mixed. The album featured backup from his new band venture, Black Jack Johnson. One single from the album, "Sex, Love & Money," earned a Grammy nomination for best alternative/urban performance.
The year 2005 found Mos Def back on the big screen, this time in a lead role, playing alien journalist Ford Prefect in the sci-fi comedy The Hitchhiker's Guide to the Galaxy, based on the Douglas Adams book of the same name. In a discussion with Jet 's Marti Yarbrough, Mos Def said that he was excited about his clever, imaginative, and playful character. "I get a chance to play a character that transcends certain boundaries whether it be racial or cosmic. He's a character that could have been played by any actor, black or white. I'm just grateful that I got a chance to do it, and I'm really excited and interested to see how people are going to receive it."
In an interview for Entertainment Weekly 's Must List in 2005, Mos Def said a new album was in the works. That year, he began filming the real-time action thriller, 16 Blocks, which co-starred Bruce Willis. Also in 2005, a 20-foot-tall image of Mos Def was unveiled in Brooklyn outside the Restoration Plaza shopping center as part of a cultural heritage exhibit to honor noteworthy natives who have found success. By being part of the display, Mos Def's image helps remind others that they, too, can rise above their circumstances. "I respect Mos Def," Brooklyn resident Naim Martin told the New York Times 's Jennifer Bleyer shortly after Mos Def's image appeared. "He shows that if you use your talent properly, you'll be all right."
Maintaining a good balance between music and acting, Def continued to strive in the following year as he managed to bring up several singles like "Bin Laden" and "Katrina Clap" amid his hectic schedule in shooting "The Hitchhiker's Guide to the Galaxy" also "Lackawanna Blues." Sadly, the success was tainted by his decision to have a legal separation in 2006 from his wife Maria Yepes who has given him two children during their ten-year marriage. Even so, the divorce apparently did not bring much affect to Def's career for he kept marching forward confidently to issue his next record "Tru3 Magic" on December 29, 2006 while reaching deals to take part in a handful of films that included "16 Blocks", "Journey to the End of the Night", and "The Brazilian Job."
In 2006, Mos Def appeared in Dave Chappelle's Block Party alongside fellow Black Star companion Talib Kweli, while also contributing to the film's soundtrack. Also, Mos Def was featured as the black banjo player in the infamous "Pixie Sketch" from Chappelle's Show: The Lost Episodes. He was later edited out of it on the DVD. Additionally, Mos Def starred in the action film 16 Blocks alongside Bruce Willis and David Morse. He has a recurring guest role on Boondocks, starring as "Gangstalicious". He is also set to be in Toussaint, a film about Haitian revolutionary Toussaint Louverture, opposite Don Cheadle and Wesley Snipes. He made a cameo appearance — playing himself — in the movie Talladega Nights: The Ballad of Ricky Bobby.
In October 2006 Mos Def appeared on 4Real, a documentary television series. Appearing in the episode "City of God," he and the 4Real crew traveled to City of God, a slum in Rio de Janeiro, Brazil, to meet Brazilian MC MV Bill and learn about the crime and social problems of the community
On September 7, 2007, Mos Def appeared on Real Time with Bill Maher where he spoke about racism against African Americans, citing the government response to Hurricane Katrina, the Jena Six and the murder conviction of Mumia Abu-Jamal. He appeared on Real Time again on March 27, 2009, and spoke about the risk of nuclear weapons. Mos Def said that he did not listen to any of Osama Bin Laden's messages because he did not trust the translations.
On November 7, 2007, Mos Def performed live in San Francisco at a venue called The Mezzanine. This performance was recorded for an upcoming "Live in Concert" DVD. During this performance Mos Def announced that he would be releasing a new album to be called The Ecstatic. He sang a number of new tracks; in later shows, Def previewed tracks produced by Madlib and was rumored to be going to Kanye West for new material. Producer and fellow Def Poet Al Be Back stated that he would be producing as well. The album was released on June 9, 2009; upon its release, only Madlib's production had made the cut, along with tracks by Preservation, The Neptunes, Mr. Flash, Madlib's brother Oh No, a song by J. Dilla, and Georgia Anne Muldrow.
In 2007, Mos Def narrated the PBS-broadcast documentary Prince Among Slaves.
In 2008, Mos Def starred in the Michel Gondry movie Be Kind Rewind, playing a video rental store employee whose best friend is played by co-star Jack Black. He also portrayed Chuck Berry in the film Cadillac Records, for which he was nominated for a Black Reel Award and an Image Award.
Mos Def also appears on the debut album from fellow New Yorkers Apollo Heights on a track titled, "Concern." In October, he signed a deal with Downtown Records and appeared on a remix to the song "D.A.N.C.E." by Justice. Mos Def appeared on Stephen Marley's debut album Mind Control on the song "Hey Baby." In 2009, Mos Def worked together with Somali rapper K'naan to produce the track "America" for K'naan's album Troubadour.
In April 2008 he appeared on the title track for a new album by The Roots entitled Rising Down. The new single, Life In Marvelous Times, was made officially available through iTunes on November 4, 2008, and is available for stream on the Roots' website Okayplayer.
April 2009 saw him traveling to South Africa for the first time where he performed accompanied by The Robert Glasper Experiment at the renowned Cape Town International Jazz Festival. He enticed his bemused African following with an encore introduced by his own rendition of John Coltrane's "Love Supreme" followed by a sneak preview of the track "M.D. (Doctor)", much to the delight of the fans.
Mos Def also designed two pairs of limited edition Converse shoes. The shoes were released to Foot Locker stores on August 1, 2009 in very limited amounts.
In late 2009, Mos Def created a brand of clothing line with UNDRCRWN called the "Mos Def Cut & Sew Collection." All clothing items will be sold in select stores located around the U.S. and almost exclusively on the UNDRCRWN website. 2009 also found Mos Def among the MCs collaborating with the Black Keys on the first Blakroc album, a project headed by the Black Keys and Damon Dash. Mos Def appeared with Jim Jones and the Black Keys on the Late Show with David Letterman to perform the Blakroc track "Ain't Nothing Like You (Hoochie Coo)".
In 2009, he appeared in the House episode entitled "Locked In" as a patient suffering from locked-in syndrome. His performance was well-received, with E! saying that Mos Def "delivers an Emmy-worthy performance." He was also in the 2009 film Next Day Air.
In March 2010, Mos Def's song Quiet Dog Bite Hard was featured in Palm's "Life moves fast. Don't miss a thing." campaign.
Mos Def features on the first single, "Stylo", from the third Gorillaz album, Plastic Beach, alongside soul legend Bobby Womack. He also appears on the track titled "Sweepstakes".
In 2010, he appeared on the children's show Yo Gabba Gabba! as Super Mr. Superhero. He also appeared in A Free Man of Color, John Guare's play at the Vivian Beaumont Theatre.
In September 2010, after appearing on Kanye West's G.O.O.D. Friday track "Lord Lord Lord", Mos Def confirmed his signing with GOOD Music.
Mos Def has been an active contributor to the recovery of the oil spill in the Gulf, performing concerts and raising money towards the repair of the damages. In June 2010, he recorded a cover of the classic New Orleans song originally by Smokey Johnson, "It Ain't My Fault" with the Preservation Hall Jazz Band, Lenny Kravitz and Trombone Shorty.
In 2011, he began a multi-episode appearance on the Showtime television series Dexter. He played Brother Sam, an ex-con who has supposedly found religion despite finding himself in violent situations.
In September 2011, Mos Def announced that he planned to use the name Yasiin instead of Mos Def beginning in 2012. In January 2012, it was reported that Mos Def and Talib Kweli had begun "to resurrect" Black Star.
In July 2013, Mos Def appeared in a short film, released by the human rights organization Reprieve, depicting the forced feeding methods used at the Guantanamo Bay detention camps. This occurred after a document containing the military instructions for the procedure was leaked.

CRITICAL ACCLAIM: About.com ranked him #24 on their list of the Top 50 MCs of Our Time, while The Source ranked him #23 on their list of the Top 50 Lyricists of All Time. Allmusic called him one of the most promising rappers to emerge in the late '90s, as well as one of hip-hop's brightest hopes entering the 21st century.

(sources: notablebiographies.com, buddytv.com, aceshowbiz.com, wikipedia.org)

See More of the 90's Artists Collection