MC Breed Digital Biography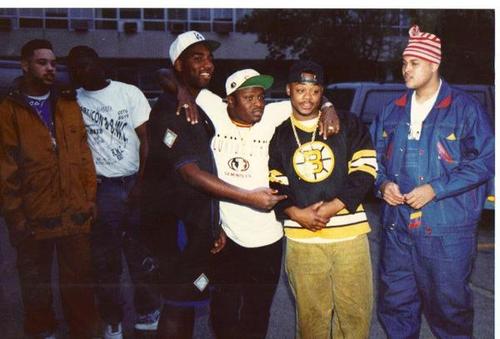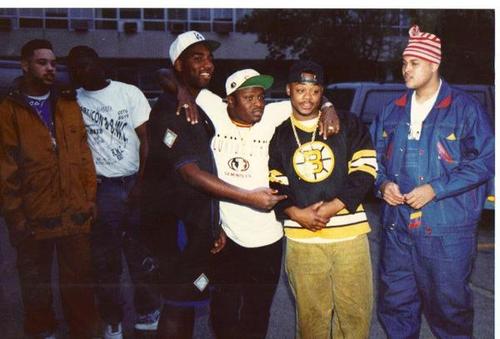 MC Breed (Born Eric Breed) (June 12, 1971 - November 22, 2008) was a rapper from Flint, Michigan, USA. Eric, along with a few junior high, high school and neighborhood friends, formed KIDD BLAST and THE TASK FORCE, who had a local hit in 1988. After Kidd Blast signed to Florida label Suntown Records, he reconnected with friends from home and put together MC BREED and DFC, a revolving cast of friends, DJs, singers and producers, and was quickly signed to Power/Swamp Dogg. Somewhere in the midst of recording the first album, the original group disbanded over the discovery that Breed was the only member of the DFC that was actually signed to the label. As a result, the original demos were never quite finished, and 11 songs were quickly culled to make the album "MC BREED and DFC". Released in early 1991, the first single "Ain't No Future In Yo Frontin'" (the title of which was taken from a Geto Boys adlib from the "Grip It (On That Other Level)" album) caught fire nationwide, combining the lyricism of the East Coast and the laidback mannerism of the West Coast. Breed quickly came home and reconstituted the DFC and headed out on tour with Ice Cube, Digital Underground (which, at that time, had a just-signed MC named Tupac Shakur), Naughty By Nature and Yo-Yo in mid-1991. The album, "MC BREED and DFC", released at the beginning of the summer of 1991, went gold, as did the single "Ain't No Future In Yo Frontin'", which also stayed in the Billboard Top 50 for the better part of 6 months, longer than any hip hop record up to that point. The reconstituted DFC broke up after the conclusion of the tour, and Breed's brother Alpha Breed and cousin T Double E (an uncredited writer on "Ain't No Future…") became the DFC in 1992 and was later signed to Assault/Atlantic. Breed released 8 more albums on Ichiban before the label folded in 1999.
Breed was THE first rapper from the mid-west to break into national and international markets. He worked together with rappers such as 2Pac, Too Short (appearing on 2 of his solo albums and one of his Dangerous Music projects), The D.O.C., Hurricane (of The Beastie Boys) and with producers such as Jazze Pha, Warren G, Colin Wolfe, Erotic D, Ant Banks, Proof of rap group D12 and Esham The Unholy. His highest charting album, "Funkafied", features George Clinton on two tracks, lyrics co-written by The D.O.C. and production by Warren G. and Colin Wolfe (of Bell Biv Devoe fame). He also was a featured artist on George Clinton's 1993 hit "Paint The White House Black" (one of his lines from "Ain't No Future In Yo Frontin'" was the impetus of that song). He not only put the Midwest hip-hop scene on the map, but he also wore his hometown of Flint, MI on his arm, his back and his heart.
Breed began recording his sophomore effort, 1992's 20 Below, but soon became embroiled in legal troubles through no fault of his own--except heeding bad advice. At the suggestion of manager Tommy Quon, Breed filed for bankruptcy in 1992, a decision the rapper called "the worst career move I could have possibly made," according to The Source. Breed fired Quon and soon signed on with Wrap Records, a part of the Atlanta, Georgia-based Ichiban music group. 20 Below did moderately well, spawning the singles "Ain't to Be Flexed With" and "Ain't Too Much Worried."
The year between 1992 and 1993 was a busy one for Breed. The first tie-in with his home state came in 1992 with the release of the independent film Zebrahead, an interracial love story filmed in Detroit; Breed penned the song "Sister and Brother" for its soundtrack. The rapper also began a collaboration with famed funkmeister George Clinton (like Breed, a native of Michigan)--one that started back in 1991 with a line from Breed's first single "Ain't No Future in Yo' Frontin'," in which Breed intones, "If you leave it up to me, I'd paint the White House black." Clinton took that line and worked it into a song of his own called "Paint the White House Black," inviting several younger rap stars--including Breed--on board in the studio and for the video of the 1993 release.
Breed's third offering, The New Breed, was released in the spring of 1993 with what has been termed "a denser, harder edged sound," according to the artist's press material. His status in the increasingly populated field of rap was evidenced by the guest performers who helped out--rapper Tupac Shakur makes an appearance on "Gotta Get Mine," and Clinton appears in the video for "Tight." More stars lurked behind the boards: credited in the production of The New Breed are major-name rappers N.W.A., Dr. Dre, and the late Eazy E. Unfortunately, the record did not do as well in sales as his previous efforts, but Breed still stood by his artistry. As he recalled for Woolfolk in The Source interview, "I actually considered leaving [the Wrap and Ichiban group]. It's like this with me: if we selling records, then we should be making money, and if we not, you [the label] should be able to come to me and say why!"
This unhappy juncture in his career also coincided with Breed's move to Atlanta, where he could join the area's growing community of rap superstars making their home there while keeping better tabs on his management team at Ichiban. Breed's 1994 release for the label, Funkafied, also boasted another Clinton contribution with the song "This Is How We Do It," which the P-Funk star penned. The record's first single was "Late Nite Creep"; it also included such inspirational tracks as "Teach My Kids" and "What You Want." The record, like Breed, defied categorization along the lines of West Coast/East Coast/Midwest rap slots--purposefully. "I try to make music that can't fit into any category," Breed told Woolfolk. "Just music. And some people will like it and some won't."
Breed's fifth album, 1995's Big Baller, was notable for the contributions of Breed's old collaborator from the Flint era, DJ Flash. With a style described as more funk and less rap by some reviewers, the record also featured Beastie Boys' DJ Hurricane on the cut "Real MC"; Big Baller's first single, "Sea of Bud," boasted gospel-choir-style backing vocals. Reviewer J-Mill of The Source praised the release for its evidence of Breed's maturation as an artist. "In the past, he appeared buried and confined by the music," J-Mill remarked. "This time around he manages to ride the rhythm and comes with a flow that is furious but still laidback."
The year 1995 was shaping up to be a memorable one for Breed, who was then only in his mid-twenties. Ensconced in a pleasant suburb of Atlanta, also home to many other rap stars (and close friends) of his generation, Breed was enjoying the rewards of success--and savvy management. The artist even began his own production company called OPM (One Puff Management) and planned to integrate the company and a greater degree of artistic control into his next contract. He was also constructing a recording studio for Andre Rison, the former Atlanta Falcons football player, who planned on embarking on his own musical career. In addition, Breed could boast of his own "Best Of" compilation, a rarity in the genre of come-and-go, flavor-of-the-month artistry.
This 1995 Best of Breed title was also notable for its pre-Christmas season promotional effort, which had the rapper drawing winners' names from a contest box in record stores in major American cities; the prizewinners would receive grocery store gift certificates. At his plush home north of Atlanta, Breed reflected on his good fortune in the interview with Woolfolk: "Life ... is good," he admitted. Woolfolk concluded, "If anyone doubts that perseverance and tenacity in this industry do not payoff," Breed is its living, rapping, proof to the contrary.
Died: 22 November 2008
On September 5, 2008 the rapper was hospitalized and placed on life-support after he collapsed when his kidneys failed during a game of pickup basketball. Breed was already on the waiting list for an organ donor. On November 22, 2008, Breed reportedly died in his sleep while at a friend's home in Ypsilanti, Michigan. Then-Flint mayor Don Williamson declared Dec. 2, 2008 "MC BREED DAY" and he was posthumously awarded the key to the city.
Before his sudden passing, Breed was preparing to release a DVD documentary about his life titled, Where Is MC Breed?. He was also working on a new album, titled The Original Breed: Swag Heavy, which was intended to be released through his former label, Ichiban Records. Although the project was still in development, Breed had reached out to many of his friends to help create the album, such as producers Erotic D, Ant Banks, Jazze Pha, Sonji Mickey, and Colin Wolfe, as well as rappers The D.O.C., Spice 1, and Too Short. Breed stated the album was half finished in September 2008 when he was released from the hospital after being on life support for two days. According to MLive.com, Breed had recorded his last song two days before his death. It's called "Everyday I Wait" and features Outlawz.
(sources: last.fm, musicianguide.com, wikipedia.org)
See More of the 90's Artists Collection
See More of the Midwest Artists Collection