Slick Rick Digital Biography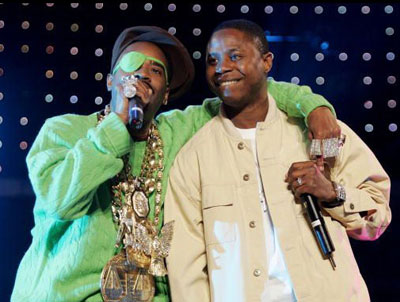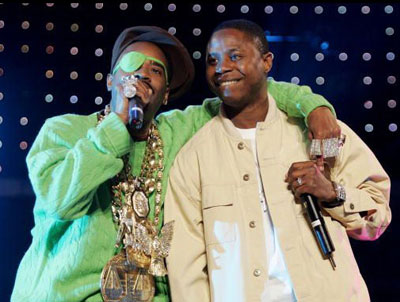 Born to Jamaican parents in South Wimbledon, London, on January 14, 1965, Slick Rick, born Ricky Martin Lloyd Walters, who has always been considered ahead of his time, is the most successful British-American rapper in music history. Brilliant word play, the effort-less ability to bring life to the stories he rhymed about, dead on pop-culture references and hilarious one-liners make him the wittiest rapper of all time.
He immigrated with his family to the Bronx in the late '70s and attended the La Guardia High School of Music & Art, where he became friends with future rapper Dana Dane. Rick began to gravitate towards the makeshift music of the streets. The two formed the Kangol Crew, and began performing in hip-hop battles around the city. At one 1984 battle in the Bronx, Rick met Doug E. Fresh, and began playing with his Get Fresh Crew (which also included Chill Will and Barry Bee). In the summer of 1985, the duo released their historic singles, "The Show and La Di Da Di." Fresh's beatbox and Rick's smooth lyrical delivery turned rap music on its head and MC Ricky D. — as Rick was known then– leaped to a solo contract two years later, after an acquaintance with Russell Simmons and Lyor Cohen led him to become the 3rd artist signed to Def Jam Records, the biggest label in hip-hop at the time. Before long, Rick would establish himself as one of the architects of hip-hop.
His career in full swing, he released his first solo album in 1988 titled The Great Adventures of Slick Rick. It hit No.1. on Billboard's R&B/Hip-Hop charts and was one of the first hip-hop records to go platinum. Rick was preparing to record his sophomore effort, The Ruler's Back, but three weeks of recording sessions were followed by five years in jail.
With his sudden rise to fame, Rick the Ruler led a flamboyant lifestyle that made him a target in his Bronx stomping ground. He hired a bodyguard; a cousin from Jamaica named Mark Plummer. But Plummer turned out to be trouble, and Rick soon let him go. When Rick got robbed and pistol-whipped in his home, it was discovered that it was Plummer and his friends. Then the rapper got shot outside a nightclub. Fearing for his life, Rick purchased a gun to protect himself. When he spotted his cousin outside a Bronx store, he panicked and fired several shots, wounding Plummer and a bystander. In the resulting high-speed chase with police, Rick drove into a tree and suffered some injuries. He pleaded guilty to attempted murder and was sentenced up to 10 years in prison. While he was serving time, his cousin broke into a home, raped a boy and was shot to death by the boy's father.
Rick hurried to complete his second album before serving his sentence in 1991.
In prison, Slick Rick proved himself a model inmate, and in 1994, he was granted work release to record his third album, 'Behind Bars.' However, after just six months, the U.S. Immigration and Naturalization Service informed Rick of their plans to deport him. All work-release privileges were ceased, and authorities sent Rick back to prison. He served his time dutifully, though, and even released his third album, the aptly named Behind Bars.
A fourth Def Jam recording, The Art of Storytelling, appeared in 1999. It featured a plethora of big-name rappers, i.e. Nas, OutKast, Raekwon from the Wu-Tang Clan, Snoop Dogg, Kid Capri, Canibus and Doug E. Fresh. The album is among the few to receive a perfect five-mic score from The Source magazine. To this day, the album is considered one of the greatest contributions to the hip-hop genre.
These days, much of Slick Rick's story remains untold. The myriad articles about prison and shootings may sell magazines, but they tend to overshadow the rapper's prodigious and influential body of work. Ultimately, Rick's well-publicized legal entanglements have obscured his art. Rick has spent more than seven years in prison, two and a half for the second degree attempted murder charges he received for that shooting, and three and a half more years in a federal detention center while hassling with Immigrations Services over his residency in the US.
It's a strange dichotomy though, because Rick's mystique is an integral part of his stagecraft…his allure as they say. The eye patch; the British accent; the sinister demeanor…it's bewildering. Which part is real, which is shtick?
Clearly, there are moments of deliberate ambiguity in the Slick Rick Experience (enough to make P.T. Barnum blush). Still, plenty of facts uphold the mythos. The eye patch, for instance, is legit, courtesy of a glass shard that flew into Rick's eye when he was an infant. And the British accent is genuine — its casual refinement belies every dumb gangsta stereotype. Throw in some gleaming grills, some bejeweled outerwear and – voila – you have the genius of Slick Rick. He's no reticent wallflower – he's larger than life.
But what about the music? Does it hold up under scrutiny?
OF COURSE…
Slick Rick is like a hip-hop holy trinity displaying three Ricky's in one body: lyricist, producer, and actor. Whereas many rappers speak in the same tone of voice (or become part of a vocal team that explores their diversity i.e., Digital Underground), Ricky is an aural dramatist – like in the days of early radio shows – who invades the soul of his characters, speaking in their voices, with a vocal repertoire that includes little children, jealous boyfriends, grandmothers, police officers and detectives to name a few.
In short, there's nothing like the Slick Rick Experience. Every album is a parallel universe where old-time radio and urban culture collide. Aural theater merges with ghetto fantasy. Rick becomes a character actor with voice-throwing chops a ventriloquist would envy and narrative powers greater than Stephen King. In theory, it all seems preposterous – impossible to pull off. But because Rick has such a genuine gift on the mic – dexterity, cleverness, wit, articulation, fluidity – it works like gangbusters.
Going forward, there is much to celebrate. On May 23, 2008, 18 years after pleading guilty in a New York State Court, New York governor David Paterson granted Slick Rick a full pardon. In essence, the esteemed governor closed a dark chapter in the Book of Slick Rick. Now hope springs eternal. A direct quote from Governor Paterson's official statement:
"Mr. Walters has fully served the sentence imposed upon him for his convictions, had an exemplary disciplinary record while in prison and on parole, and has been living without incident in the community for more than 10 years. In that time, he has volunteered at youth outreach programs to counsel youth against violence, and has become a symbol of rehabilitation for many young people."
It's high time this founding father of hip-hop — this mastermind of modulation, meter and tone — receive the accolades he so richly deserves. Always impeccably attired, there are no other rappers who can touch his style. He carries commercial and cultural clout as well. His influence cannot be overstated. More than any other rapper, he's been sampled, quoted, loved, and emulated by each generation that has followed him.
Hip-hop is about life and truth, and Slick Rick is successful because he is truly a great storyteller in the timeless tradition…
(source: ricktheruler.net)
See More of the 80's Artists Collection