Lupe Fiasco Digital Biography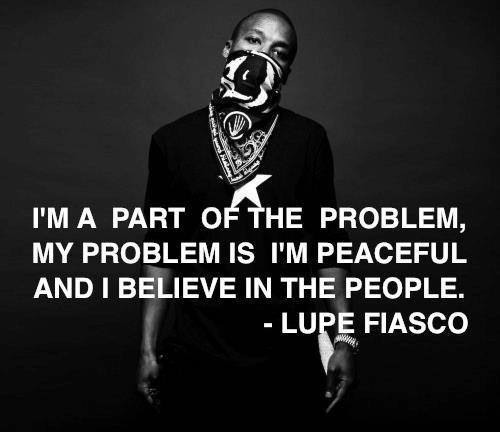 Born in a Muslim family on February 17, 1982, Wasalu Muhammad Jaco aka Lupe Fiasco was the fifth child out of nine siblings. His father is an engineer as well as an apt drummer while his mother is a gourmet chef. Little Fiasco was raised in Westside of Chicago and pursued his education at Illinois' Thornton Township High School. Rapping had gone into his head while he was still very young, but gangsta rap was popular during the time that he was intimidated by the profane lyrics produced by the rappers at that time. Thus he gave up rapping as a career choice.
However, when he heard Nas' 1996 album, "It Was Written", Fiasco was dumbstruck and instantly attracted to the art of rapping. At 19 years old he had formed a rapping group called Da Pak that were signed by Epic Records and released a single. Unfortunately, the group split up just after they were about to begin but fortunately for Fiasco who chose to go solo after that.
He immediately signed to Arista Records but when chairman and CEO Anthony "L.A." Reid stepped down from the position, he too had to quit from the label. Refusing to stop ...
in the track, Fiasco recorded a number of mixtapes and began uploading them on-line. Soon enough he was a quite popular Internet artist that his work was heard by renown rapper Jay-Z.
His appearance in Mike Shinoda's mixtape "Fort Minor: We Major" landed in the hand of Jay-Z who later on offered Fiasco to join his Roc-A-Fella label. Since Fiasco had already started mixing, releasing singles and gained money from it, he had enough preparation to start his own record label. Thus he turned down the offer from Jay-Z to start 1st and 15th Entertainment which is an imprint of Atlantic Records.
Through his own label, Fiasco released his debut studio album called "Food and Liquor". The album became a major success, gaining as much as four nominations at the 2007 Grammy Awards. Fiasco, by then was acknowledged as one of the rappers who was closely associated to A-listers in Hip-Hop community such as Kanye West, Pharrell Williams and Jill Scott. Together with the first two musicians he formed a supergroup called Child Rebel Soldiers who spawned many mixtapes.
He released an album called "The Cool" that proved to be another hit for him through two strong singles called "Dumb It Down" and "Superstar". The latter in particular has been a chart climber since it was released in December 2007. It peaked at number 10 on Billboard Hot 100. In the end of 2007, just after only releasing two studio albums, the rapper came with a shocking news that he was about to end his career in music.
"I'm just wearing down," he said. "I'm never doing mixtapes again, not even Internet ones. My whole energy for making hip-hop music is slowing down. I've been doing it for seven years. I still don't think I'm famous. I'll do what I have to do to promote my next album, but I'm not enthused about doing seven albums. I'll do my three, and then I am going to keep moving to the next phase of life and maybe grow trees."
The world was hoping that by the success Lupe could reverse his decision to quit the music industry. However in January 2008, the rapper made another announcement of his retirement from the business and announced his other venture, literature. "There are other ways besides putting out an album that allow me to channel my creative energy and I'm writing a book about a window washer. I will have more than enough to keep me busy," the rapper said.
With the announcement also came the confirmation that his third studio album "LupEND" that was due 2008 will be the latest release from him. He said, " 'LupEND' - that's going to be my last album's title. When you play a video game, you can only put in three letters for your name and when the game's over, those three letters and 'END' pop up."
But he changed the plan. The album did not come out in 2008 and was not titled "LupEND" either. A lot of delays from Atlantic Records about the release of his third album had prompted his fans to release a petition that brought tears to his eyes. The first single from "Lasers" was released in the fourth quarter of 2010 titled "The Show Goes On". It debuted at number 57 on Hot 100 and continued to climb to number 39 up until the album's released on March 8, 2011.
On February 10, 2013, on the red carpet for the Grammy Awards he announced his fifth studio album would be titled Tetsuo & Youth. Since then, he has released songs that are not slated to be on Tetsuo Youth. These songs are "Light Blue" and "Jonylah Forever." Upon hearing her name in Lupe's song Form Follows Function, Imogen Heap reached out to Lupe on Twitter to give a thank you which led to Fiasco asking her to appear on his next album making her a possible guest artist on Tetsuo and Youth. On August 4, 2013 Lupe Fiasco revealed a new song would be released on September 11, titled "Peace Of Paper/Cup Of Jayzus".
On August 24, 2013, Fiasco revealed the first song from Tetsuo & Youth, "Crack", featuring Chris Brown. Then on October 3, 2013, Fiasco announced the Tetsuo & Youth Preview tour to take place between November 2 and December 15, 2013. The tour featuring label-mate Stalley as a supporting act, and The Boy Illinois as an opening act. He also revealed the album Tetsuo & Youth would be released in early 2014. On October 14, 2013, Fiasco released the first song from the album, "Old School Love" featuring singer Ed Sheeran. Then on October 21, 2013, Fiasco revealed that Big K.R.I.T. and Rick Ross would also be featured on the album.
On May 19, 2014, Fiasco released the first single from the album, "Mission". 'Mission' is a track to empower those facing cancer, revere cancer survivors, and remember those who have passed to due to cancer-related illnesses," he explains. He has teamed up with Stand Up to Cancer as a celebrity ambassador. Together, they are planning collaborations tied to the track that will be unveiled the same year.
On May 20, 2014, U.S. Soccer named Lupe Fiasco as the Music Director for the Men's National Team and artist Futura the Art Director for the Men's National Team's 2014 FIFA World Cup campaign.
(sources: aceshowbiz.com, wikipedia.org, ussoccer.com)
photo credits include: firstklassbreakfastdotcom, chigganese (tumblr), carrera lu, crooks n castles, rapdosedotcom, gq magazine, jus-a-dash (tumblr), mattlocks photography, ray tamarra photography, instagram, staydownhqdotcom, stephthefiasco (tumblr), tabshift (tumblr), tetsuo & youth, tunewikidotcom, vibe magazine, you4eyea (tumblr)