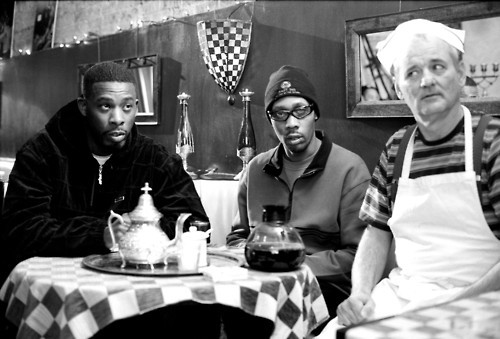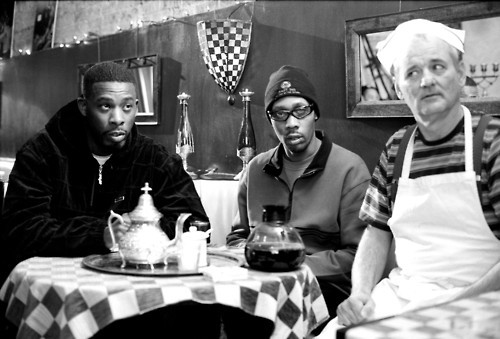 Gary Grice (born August 22, 1966), better known by his stage name GZA (pronounced /ˈJizzah/) and The Genius, is an American hip hop artist best known as a founding member of the seminal hip hop group the Wu-Tang Clan and for his inclusion on their group albums, his group mates' solo releases and a successful solo career.
When it comes to thought provoking, street-bred raw lyricism, the Wu-Tang Clan's fountain of wisdom, GZA takes his job very seriously. The way he crafts his double-edged rhyme flow mirrors the skill and precise technique of one who works with fine ceramics. GZA's metaphoric and multi-layered lyrics are often touted by critics as his rap name implies; genius.
Born in Brooklyn, NY and raised in every borough of New York City, The GZA's workmanship can be found three albums deep with classics dating back to 1991 including the albums Words From The Genius, the gold-selling Liquid Swords and Beneath The Surface. Before his days of microphone notoriety, GZA found himself, during the early ages of rap music, travelling throughout New York City sharpening his rap skills in scattered rhyme battles. "I've studied rap in every borough," the GZA says proudly. "I've been rhyming before a lot of these cats out here were born. We've [Wu Tang Clan] always drank, ate and slept hip-hop. I love it." On his latest blockbuster album Legend Of The Liquid Sword, The GZA makes reference to his hip- hop foundation on the reflective Fam (Members Only) "I grew up around B-Boys, DJs, MCs, through rap, never thinking in ways of TV," the Genius raps. "It was strictly all about magnificent rhyme clout."
During GZA's travels, he encountered other rap veterans that recognized his promise and helped to nurture his talent. "I watched a lot of people come up that are big now," Genius says earnestly. "I used to make demo tapes with cats that rocked with Russell Simmons and people like that. The history goes so far back; I've always been really focused on writing dope rhymes."
The GZA's dream of perfection has been realized once again on his fourth album to date. Legend Of The Liquid Sword not only regains the powerful momentum started by the last three releases, it adds to the Genius' verbal legacy with uncompromising integrity. Heat-seeking darts like the introspective, Auto Bio where GZA breaks down the elements of his life that created the man he is and the crime thriller Luminal.
What has always set The GZA apart from the ordinary is his ability to create complex images with simple context. In the same way it's said that a picture is worth a thousand words, Genius assembles his words to create thousands of vivid pictures. "I don't like to just be simple," he explains. "Even though some of my stuff can seem simple at times, I like to write in a way that when you listen to it over and over again, you hear something new and it requires you to think." Legend Of The Liquid Sword does just that. Whether the listener gets captured by the vocal acrobatics of Santi White (who has written songs for Res) on GZA's Stay In Line or the authentic old school soul production on the masterpiece Animal Planet, Genius weaves satisfying brain food through his lyrics. In his phenomenally cerebral use of metaphors, The Genius flawlessly equates human city dwellers to animals in the jungle onAnimal Planet , which was produced by rhythm doctor Bink (who has produced heavyweight joints for Fat Joe, Nate Dogg, Mr. Cheeks and Faith Evans). With beats by fellow Wu Tang brother RZA, Jaz-O (Jay-Z's Reasonable Doubt album), DJ Muggs (who has produced for Cypress Hill, Mobb Deep), Wu producer Mathematics (Ol' Dirty Bastard, Method Man, Sunz of Man), Arabian Knight and other sonic masterminds, GZA's talents come across even heavier. On the adrenaline raising Hip Hop call to arms, Knock, Knock (the album's shining debut single), The GZA asks on the chorus, "knock, knock, who the f*** is banging at my door, is it abstract, commercial or hardcore?" In his signature way of ill rhyme construction, GZA further defines the parameters of whatrap music should be.
Don't call GZA's comeback just a comeback, it's a return of an entirely revolutionary thought process. "When we did Back In The Game on the Wu-Tang Iron Flag album, I did a verse about gambling," he explains solidly. "I didn't want to be 'back in the game' or 'back on the block,' that's typical. I made it all metaphorical." It's those same metaphors that makes the Genius' liquid sword a living legend in it's own time.
The group debuted in 1993 and their album Enter the Wu-Tang (36 Chambers) took the music industry by storm. Produced entirely by RZA, it was like nothing that had ever been heard at the time. GZA was featured throughout the album. The whole album was hailed by critics as a masterpiece, and GZA was touted by many as the best lyricist of the group.

Building off of that success GZA signed a new deal with Geffen Records and in 1995 released Liquid Swords. Again produced entirely by RZA and featuring a plethora of guest appearances from his fellow Clanmates the album was lauded by critics as a hip-hop classic and was certified gold by the RIAA. The album took the dark, foreboding atmosphere found in previous Clan releases to a whole new level. GZA's lyrics are still considered some of the sharpest ever created, combining vicious battle raps, mind-bending word-play and rich visuals. In 1998, the album was selected as one of The Source Magazine's 100 Best Rap Albums of all time.

After appearing on the Wu-Tang Clan's second album, Wu-Tang Forever, GZA released Beneath the Surface in 1999. Reviews were mostly positive however it failed to live up to Liquid Swords acclaim and commercial success. Critics pointed to production as the albums main weakness, noting a distinct lack of RZA produced tracks, resulting in a messy collage of beats rather than a cohesive sound. There were also complaints about the needless skits and the vast number of guest spots which allowed little time for GZA to actually rap.

GZA laid low for the next few years, only appearing on the Wu-Tang Clan albums The W and Iron Flag. However in 2002 he dropped Legend of the Liquid Sword. The album was received well by critics, with some hailing it as GZA's return to Liquid Swords form, but with most agreeing it was an improvement on its predecessor as its production is superior and the record features fewer guest appearances. However the album lacked commercial success and failed to go gold as his previous two releases had. GZA spent most of 2004 touring both solo and with the Clan. He also made an appearance with RZA in Jim Jarmusch's film Coffee & Cigarettes opposite Bill Murray. In 2005 GZA and DJ Muggs (the producer for Cypress Hill) released the LP Grandmasters. Muggs provided all the beats for the album, which saw GZA using chess as a metaphor for the rap game, exercising his story-telling muscle and commenting on his place as a senior member in the hip-hop community. The album received overwhelmingly positive reviews and decent commercial success.

2005 also saw GZA ink a deal with indie label Babygrande Records to release a new LP. The album was originally scheduled to drop sometime in October 2006, but since that time there has no word as to when it will be released. However in a recent interview with XXL magazine GZA stated that he is working on the album with RZA in addition to a collaborative album with his son Young Justice. His new solo LP has been referred to at various time as The GZA Presents..., Return of the Genius and More Words from the Genius. GZA will appear on the Wu-Tang Clan's newest album 8 Diagrams, set to be released in November of 2007. He will also be featured heavily on fellow Clansmen Raekwon's new CD the highly anticipated Only Built 4 Cuban Linx II. It is speculated that he will have the co-starring role similar to Ghostface Killah's on the original Only Built 4 Cuban Linx. GZA partook in the summer 2007 Wu-Tang tour of Europe and the Rock the Bells tour with the rest of the Clan.
In the summer of 2008, he released the album Pro Tools which featured production from Black Milk and past collaborators Jay "Waxxx" Garfield, RZA, Mathematics and True Master. A very controversial song on the album was entitled "Paper Plates" a smooth flowing response aimed at rival rapper 50 Cent. After the release GZA toured various parts of Europe on a "Liquid Swords Tour" where he performed songs from Liquid Swords as well as Pro Tools. He later toured parts of the USA. GZA also stated his wish to record another full album with RZA.
In 2009, GZA made appearances on two more Wu-Tang Clan albums. The first being on a song entitled "Stomp da Roach" on the album Dopium, by fellow clan member U-God, the other being appearances on the tracks "We Will Rob You", "Rockstars" and "House of Flying Daggers", on Raekwon's Only Built 4 Cuban Linx... Pt. II. The Genius continued to tour during the year, appearing on the "Rock The Bells" lineup and also performing at the NXNE music festival in Canada. RZA confirmed that he will be producing Liquid Swords II: The Return Of The Shadowboxer. GZA also made an appearance in a video for Devendra Banhart's song titled "Baby". For Liquid Swords II, he has recently confirmed with Examiner.com that Killah Priest will hold a solo song ala 'B.I.B.L.E.' to act as the closer to the album just like the original. He has also begun work on an album, a concept album, called Dark Matter. The album is based on a journey through time and space. He will also be appearing on the upcoming collaboration album between producers Pete Rock & DJ Premier V.S. album appearing on Premier's track. In a recent lecture, GZA also "hinted at the possibility of an album without a Parental Advisory sticker", after denouncing profanity in hip-hop as "filler which is not needed".
(sources: last.fm, artists.letssingit.com, wikipedia.org)
The history of hip hop culture and music. Learn about how hip hip has been commercialized, impacted pop culture, education & the universe. Take the journey through the 1990's with Tupac, the Notorious B.I.G., The Wu-Tang Clan, Jay-Z, Nas, DMX, Lil Kim, Junior Mafia, Tribe Called Quest, Dr. Dre, Snoop Dogg, Outkast, Scarface, Mos Def, Lady of Rage, The Fugees, Lauryn Hill, Puff Daddy, P. Diddy, Ruff Ryders,