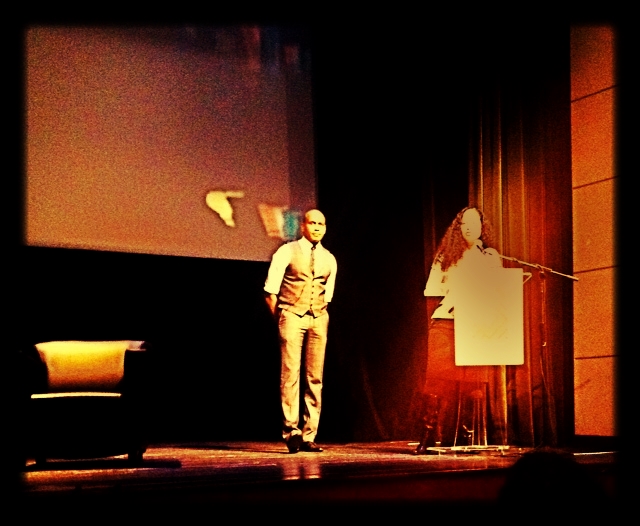 Hip Hop Scriptures enjoyed the honor and privilege of being in attendance at the Schomburg Center's evening with Kool Herc, hosted by Kevin Powell, BK Nation Co-founder. Enjoy the recap below!

The early years: Kool Herc came to the U.S. From Jamaica in 1967. We have his parents, Keith & Nettie Campbell to thank for that! His family started out living on 2nd st in Trenchtown (same hometown as the legendary Bob Marley). They later moved to Franklyn Town. "I remember when we got our independence. We never felt divided amongst the races (white, Indian, black, Syrian)". His father was a mechanic, and his Mom a nurse.
It was his mother who actually traveled to the States first in the mid 60's to pursue a career in nursing. She would often bring back records from Motown. But that wasn't all she brought! "We had the 1st black & white tv. I was the man on the block for a while." Herc's father listened to Ella Fitgerald, Conway Twitty, Nat King Cole, etc. It was from his father that he learned Anytime there's good music, that's a good bounce. Basanova (pre-reggae), Miriam Makeba were also early influences.
On first arriving to New York: John Lindsay was the mayor & Rockefeller was the governor at the time. I was 13 years old & flew into Kennedy airport. We lived in The Bronx - back then I could count the Jamaicans on my hand. We could have lived in England or Canada, as we had family there, but The Bronx became home. It always had it's own flavor. Our household was the Brady Brunch - 3 boys, 3 girls. 6 is our family's lucky number for a lot of reasons. I was born on Good Friday originally.
The beginning: I had a lot of love for James Brown. I originally heard him in Jamaica with a group from England. He would talk to you & he was talking reality. He was dancing, doing his thing. I just loved him. Cousin Brucie & Wolfman Jack were early influences as well... Three Dog Knight, (songs like) Judy In Disguise - I listened to everything. I started to buy records with my father. I couldn't touch his unless I held them a certain way. You're denying your ears from some good substance [if you only listen to hip hop].
Bronx Party Scene: Parties were 25 cents, 50 cents for fellas. I still get my lil stinky leg now & then [laughs]. Kool & the Gang, Sly & the Family Stone, The Rathole on 3rd Ave - I used to dance there. I always took a dancer's perspective behind the turntable. I didn't want the dancers to have a gripe with me. I was able to develop the "Merry-go-round" technique because I was always watching for hot spots (the part of the record that party-goers waited to really dance).
How he got his "Kool" moniker: I picked the name Kool as my nickname. My legs were developed from being a cyclist in Jamaica. Playing basketball they noticed how strong my kick was. Everybody gotta stomp you back in Jamaica if the ball hits you when playing soccer. This made me an aggressive basketball player in high school. So people started referring to me as Samson, Cyclops, Lurch...this eventually led to Hercules. So I shortened it to Kool Herc. Man, I would tear the rim up! My father even started calling me Herc. I was tagging Kool Herc with markers, spray paint...we used anything we could get our hands on.
The move to 1520 Sedgewick: 161st & Grand Concourse - we were relocated there. We eventually moved to a new building that had 2 bathrooms in our apartment (which made my Dad happy). There was a Rec Center. I eventually turned from graffiti to turntables. I never gave the label of records I played (most of which were obscure). I played what SHOULD have been on the radio.
John Brown was a DJ on 167th at the Tunnel (167th & River Ave). John went to Alfred E Smith High School as I did. I used to watch him do his thing. There was a place called AST that had the best equipment. I got a pre amp and could put it to a box. Instead of using raw speaker wire, I used a jack. I connected the turntable to the speaker, instead of a mic. That way, I was able to control my power from the pre amp. No headphones, so I had to know the record. You really couldn't talk to me, I was FOCUSED. I noticed the people dancing would wait for certain parts of the record. That's when I came up with the merry-go-round. I used to give fire drills at the parties & show people the proper exits. I only gave a party when they asked for it. They'd see me on my bike talking about the girl they met at the last party. Rain sleet or snow they would come!
The HERCULOIDS: Red Alert was in the audience one night. Red became familiar with Herc with Coke la rock. The Herculoids! was the name on the party flyers. My ears is my business (to this day) & it's still fun for me. If you have any heart problem, please stay away from the bass. And don't come with a full stomach.
Thoughts on Today's Hip-Hop Culture: Why are coffins in a youthful (The Source) magazine? Why the kill, kill, kill, murder, murder? I want to be part of peace & progression. I blame the ones that were paying them (Biggie & Pac). If I see you going astray I'm going to tell you. I have met people who say they met their wives at my parties.
All generations put a spin on it. Divisiveness in hip hop needs to stop. I'm not a talker. I want to party & dance.
Some artists that Kool Herc listens to today include Rakim, Chris Brown "Breezy's my man!", along with several unsigned artists.

His parting words of advice?

Stop being hood rich. Be nation rich. Don't spoil something that came from nothing. Hip hop could build a charter school right now. We gotta own some things.
Kool Herc was later presented with a proclamation from Public Advocate Letitia "Tish" James & BIRTHDAY CAKE to celebrate his 60th birthday. Happy Birthday Kool Herc from Hip Hop Scriptures!
STAY CONNECTED with Hip Hop Scriptures!